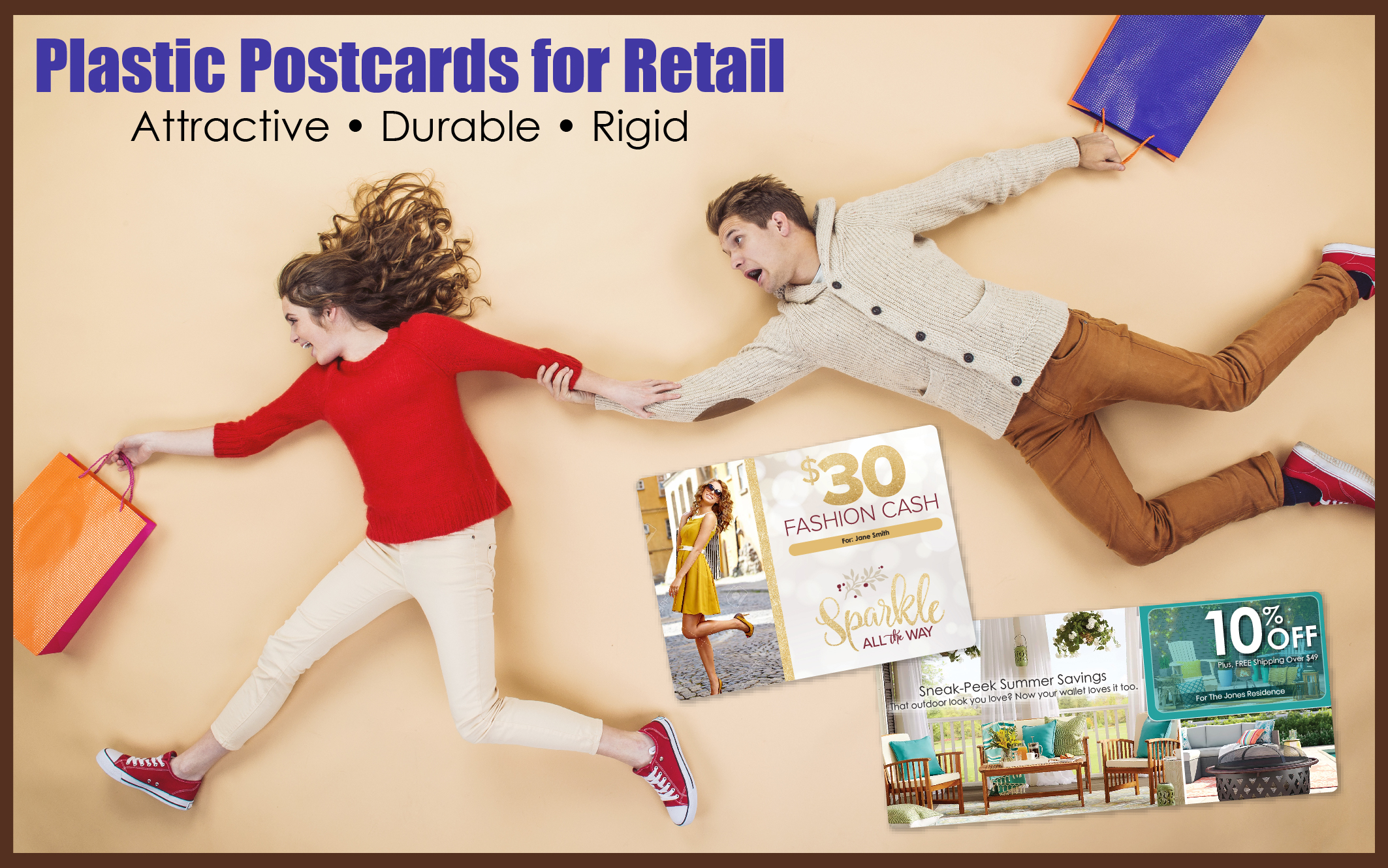 Digital marketing may be all the rage these days, but direct mail remains one of the most effective forms of marketing. This is because of its visual impact and tactile nature, which are more memorable compared to online ads, which can easily get ignored.
And for your retail business, plastic postcards are an outstanding way to make a good first impression on your customers, introduce your business, and generate a steady flow of new and repeat customers.
Let's take a look why plastic postcards are a good idea for retailers:
#1. Plastic postcards are attractive and interactive
Impressing your prospective customers with your merchandise is important. Plastic postcards allow for full glossy color digital printing on the front and back that easily grabs the recipient's attention and allows you to deliver more content such as special offers, discounts, and location and contact information. The die cut gift card size pop out allows the mail recipient to pop out your offer and put it in their wallets.
Just like a gift card, each time your customer opens their wallets they will see your offer and be reminded of your brand and the offer they received from you.
#2. Plastic postcards are durable
As a retail business owner, your direct mail materials depend on visual images to entice prospective customers into doing business with you. However, there's a chance that your postcards might get damaged during delivery.
Plastic postcards are durable and water-resistant, and will withstand the harsh sorting process the USPS puts marketing mail through. Plastic postcards will show up in the mail box looking just as nice as they did when they came off the press. As you know first impressions are everything, and plastic postcards will give you the best shot at making a great first impression.
#3. Plastic postcards are rigid
Plastic postcards are ideal if you want to immediately stand out from your competitors. If you send paper mail, they can easily be tagged as junk. Plastic mailers, however, are rigid and weigh more than regular paper mail so not only do they quickly catch the eye, they easily fall out of the recipient's mail stack making sure your ad gets noticed first.
Mail It Direct offers its STRONG Mailers, or credit card-thick laminated postcards that contain promotional gift cards that pop out of the postcard itself. With our 100% read rate, your customers will surely engage with your direct mail. The retail industry can be tricky to navigate, but by using the right tools, your business can stand out from the competition and become more memorable to customers.
#4. Plastic postcards are personal
Plastic cards are the perfect opportunity for retail companies to add a human touch to their promotional materials. Instead of sending generic mail, companies can take advantage of personalization to make audience impressions last.
For example, you can include a personalized link to your landing page where a customer can redeem an exclusive deal, like a product discount. Or you can, variably print your customers name in multiple spots in the creative. This helps you establish a relationship with the client by speaking directly to them. It has been proven time and time again that personalizing your message or offer to your customer will yield a better response rate.
There are a lot of ways that retailers can utilize plastic postcards to gain more customers and retain loyalists. By sending the right message, connecting to the right audience, and sending mail at the right time, businesses are most likely to succeed.
No one knows plastic postcards like Mail It Direct. Our credit card-thick STRONG Mailers demand attention and outperform other direct mail formats by creating a strong impression that will surely engage your clients. From designing, targeting, printing, and mailing, we'll help your business grow every step of the way. Drop us a line today to learn more.