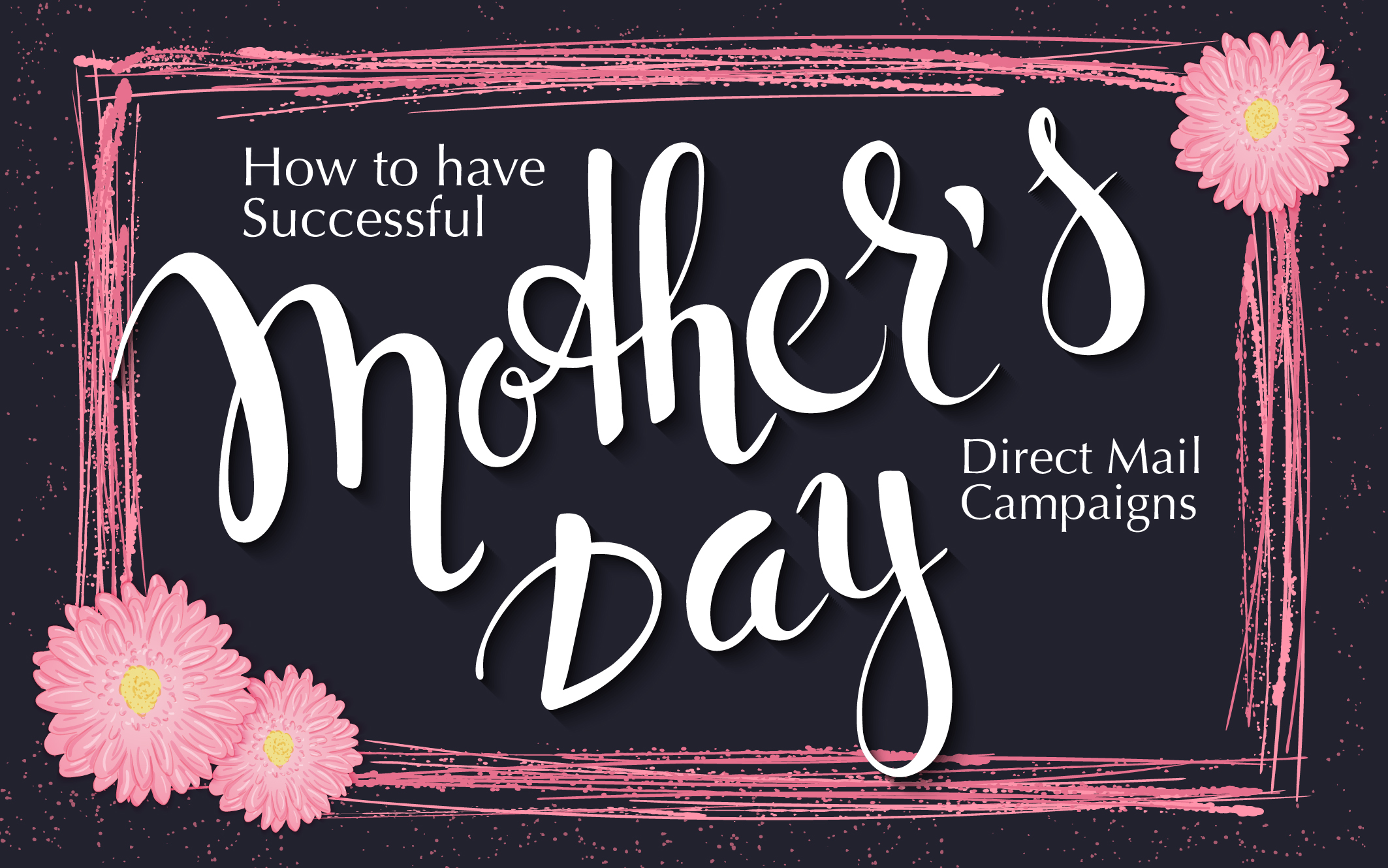 Moms deserve to feel loved and appreciated all year round, but people go the extra mile during Mother's Day. In fact, Americans are expected to spend a total of $30 billion on flowers, jewelry, greeting cards, and spa treatments for this year's Mother's Day celebrations.
Businesses would experience a better return on investment (ROI) with their direct mail campaigns around holidays and other special occasions if they follow these tips: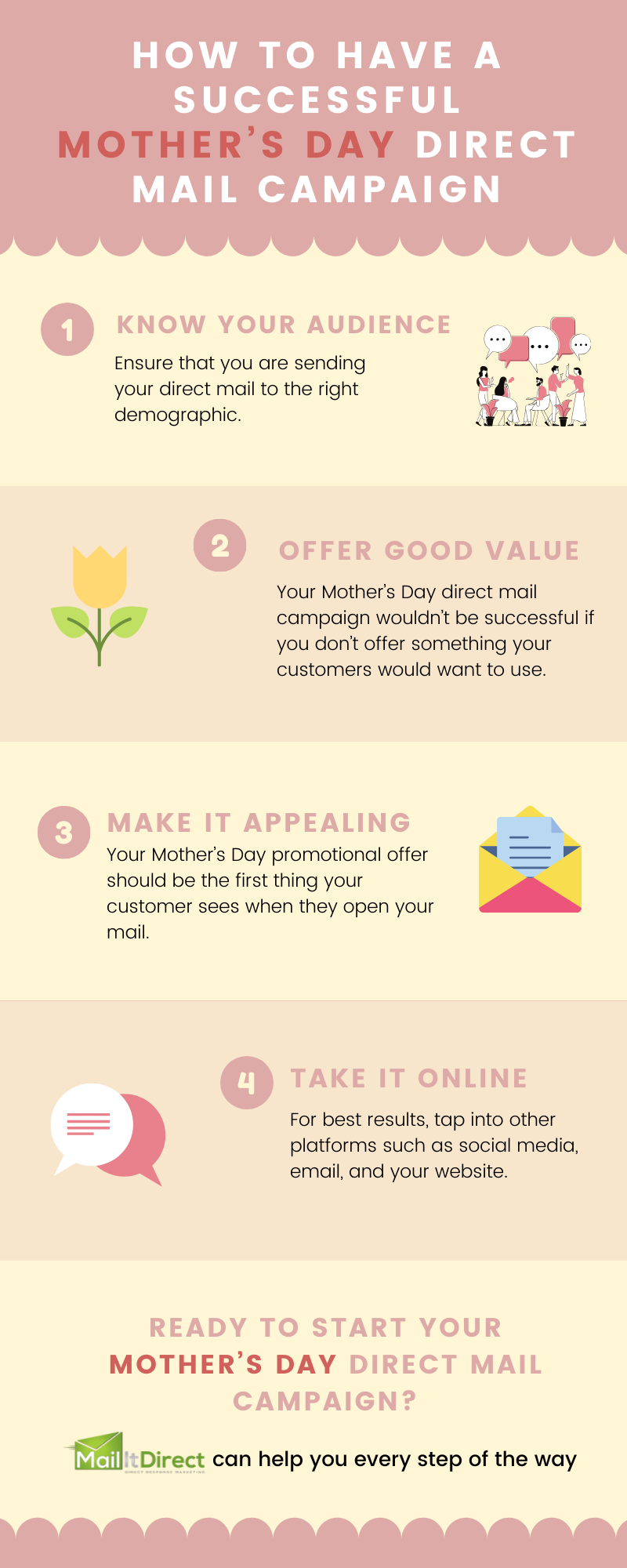 #1. Know your audience
Many marketers tend to send their direct mail to their entire customer list without targeting the right audience. For Mother's Day, ensure that you are sending your direct mail to the right demographic.
For instance, you can target husbands by sending them a Mother's Day postcard reminding them to buy something for their wives. Meanwhile, make sure you don't send a Mother's Day postcard to someone whose mother has recently passed away. Knowing your audience will not only save you time and money, but it will also ensure better engagement.
Mail It Direct's List Cleaning service verifies the accuracy of your customers' addresses with the National Change of Address (NCOA) database. We will remove duplicate addresses and those that are no longer applicable. By signing up with us, you are sure that everyone receives your mail and gets to know about your latest offers.
#2. Offer good value
Your Mother's Day direct mail campaign wouldn't be successful if you don't offer something your customers would want to use. Remember that you're not the only business with a Mother's Day marketing campaign, so standing out from the competition is key.
Flower shops can send postcards with codes that customers can use to get huge discounts. Restaurants can offer moms gift cards treating them to a free meal. Salons and spas can provide free pedicures, massages, and haircuts. Jewelers can also offer free name engraving and gift wrapping services.
#3. Make it appealing
Your Mother's Day promotional offer should be the first thing your customer sees when they open your mail. So make sure it's eye-catching by including pictures of what you want mothers to have, such as a dozen roses, a relaxing day at the spa, or a glamorous necklace.
Mail It Direct can help you achieve the design you envision for your direct mail materials. Our team of graphic design experts will closely work with you to produce the perfect layout, color palette, and design elements that will surely engage your customers.
Make your direct mail material even more personal and interactive by using our STRONG Mailers, or ultra-glossy credit card-thick plastic postcards. You can write a personal message on the mailer and include promotional gifts that easily pop out. Because of your direct mail's visual appeal, and uniqueness, your customers will be more eager to read your advertisement and take advantage of your offer.
#4. Take it online
Your business doesn't have to be limited to direct mail to reach your customers. For best results, tap into other platforms such as social media, email, and your website.
Research by the United States Postal Service (USPS) shows that 60% of direct mail recipients visit a brand's website after receiving direct mail. You can use your mailers to direct your customers to your online platforms. For example, you can offer an additional discount to the client if they visit your website or leave a positive review on your Facebook page. This way, you are maximizing your business's potential for growth.
Mail It Direct's new Market Blitz service supercharges your direct mail campaign with seven digital technologies to ensure the best results. This includes social and lead match, mail and call tracking, online and social media follow-up, and informed delivery. By targeting multiple channels, you create an omnichannel experience that boosts your sales and ROI.
Ready to start your Mother's Day direct mail campaign? Mail It Direct can help you every step of the way, whether it's graphic design, prospect listing, mail delivery and tracking, or digital marketing integration. Our credit card-thick STRONG Mailer postcards are also sure to engage your clients. Get a quote from us today!

---