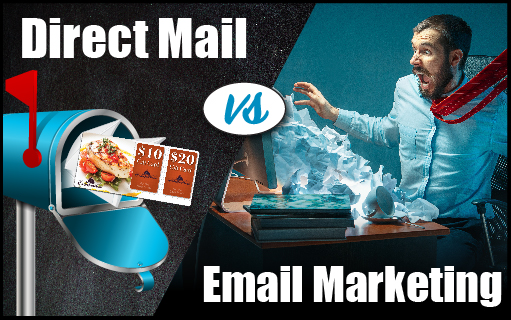 In today's digital world, almost everything can be done through the internet. Finding answers to questions is as easy as searching online and buying necessities can be done with just a click of a button, without the need to head to a store.
The same goes for the marketing industry. Reaching customers can now be as easy as placing banner or pop-up ads on websites, setting up a social media account, or starting a new website. Many companies also resort to email marketing or the act of sending a commercial message online to a group of people.
Many marketing enthusiasts wonder, however: how does it compare to direct mail marketing? Once presumed to be a dead marketing strategy, direct mail has been making a dramatic comeback and is slowly becoming the preferred method of a lot of companies to reach their prospective customers.
Let's take a look at why direct mail is more advantageous to businesses than email marketing:
#1. Direct mail is more personal
Who doesn't love receiving mail? Especially when that mail is personally tailored to you. With new printer technology, it is possible to personalize offers on each and every single mail piece. It is proven that variable data printing does help and connect better with your audience and increase your response rates.
For instance, your company can send a prospective customer a credit card-thick laminated postcard that has the recipient's name and custom discount offering for one of your products/services. Even though this is a promotion, most people appreciate it when businesses send them discount offers that they can use immediately or in the near future.
The same can't be said for email marketing. If companies want to send their marketing materials, they can only do this online via their recipients' email addresses. This doesn't have the same personal appeal as receiving marketing materials via direct mail.
#2. Direct mail is more noticeable
When people receive physical direct mail, they typically receive only a handful, consisting of promotional mail, bills, and personal letters. Given that our laminated postcards have unique features compared to regular mail such as high gloss, rigidity, weight, and interactive features, your direct mail piece will stand out in the mailbox.
For example, Mail it Direct offers its STRONG mailers or credit card-thick plastic postcards. Because they are heavier and more rigid than regular mail, recipients will easily notice them. With a 100% read rate, they are more likely to be read first.
When it comes to email, however, the Subject line is the only thing that makes the email stand out, and all messages land in only one place: the user's inbox. The message is mixed with social media updates, newsletters, and marketing efforts from other companies. And when a user's inbox becomes cluttered, they will not easily see your email. In some cases, your message might end up in the recipient's junk mail, where they go unnoticed. This makes email marketing less desirable and, in most cases, less effective.
#3. Direct mail encourages better response
Technology is helping direct mail make a comeback today. According to the 2018 Data & Marketing Association (DMA) Response Rate Report, the household and prospect list response rates saw significant increases in 2018, compared to the past year.
Thanks to technology, marketers are becoming more accurate when it comes to analyzing consumer behavior. Marketers are sending out mail to those who actually look forward to them, bringing the business better response rates.
While email marketing is cheaper for businesses to use, it does not achieve the same response rates as direct mail. The DMA's study found that email's average response rate is less than 1%, while direct mail reaches at least 3–4%, with Mail it Direct's average response rates in the double digits.
#4. Direct mail is more flexible
Direct mail has become more than just simple promotional materials. Today, you can print customized QR codes that take recipients to a product page when scanned. You can also take this opportunity to tailor-fit a postcard according to your target market's needs.
Your business can even use direct mail for modern interaction. You can send out postcards that don't just contain discount vouchers but also encourage social media engagement, downloads, online purchases, and audience rapport.
For example, if the recipient follows your social media accounts, they will get another discount on top of the one they already got. Or you can also ask them to leave positive reviews about your products and services in exchange for loyalty points.
When it comes to email, businesses' creativity is limited to what they can do online, such as writing good copy, creating a good design and having a clever subject line
Why take chances with email marketing when your business can be assured success with direct mail? Mail It Direct can help you achieve that by providing you with credit card-thick plastic postcards that are sure to stand out from regular mail. Need custom graphic design services? We got you covered. We can also provide you with a targeted prospect list or clean your customer list with our mail delivery tracking we can notify you exactly when your advertisements are hitting mailboxes. We are your best bet when it comes to direct mail marketing. Contact us today to get started!